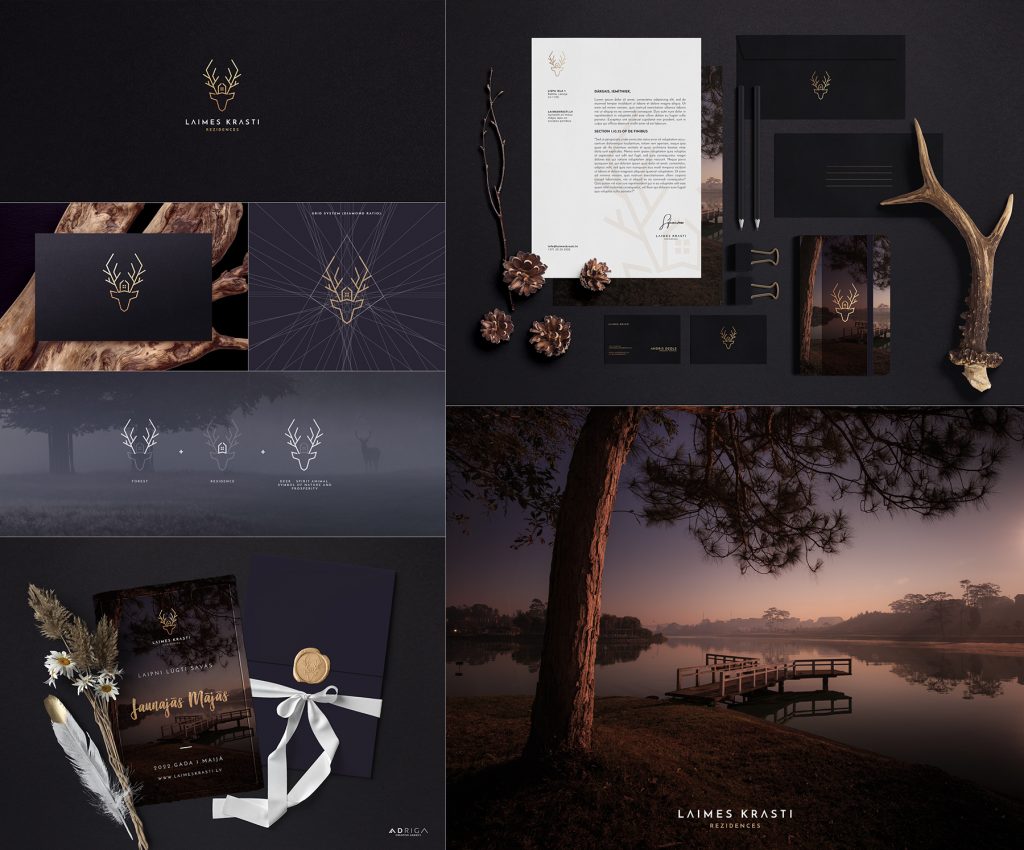 Why should creation of a logo design cost more than $10,000 and take more than a month if there are alternate offers for $100 that promise to accomplish the task within a few days? The following brief, clear, and illustrative steps offer insight into our process of creating a high-quality, professional logo and visual identity. The article is based on our case study for the forthcoming Residential Village "Laimes Krasti" (Shores of Happiness) currently being built on the shores of a lake surrounded by a pristine forest.
Step 1: Determining the customer's wishes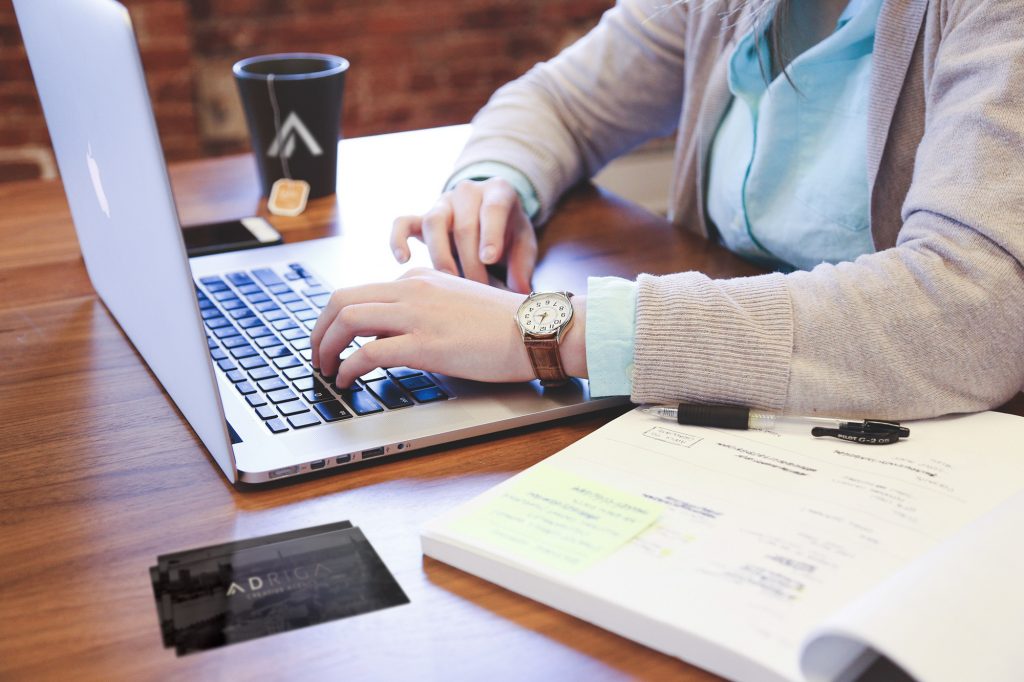 The process starts with communication with the customer.  All project-related aspects and requirements are discussed in detail. We collaborate with customers throughout the world and have successfully created more than 1,200 brand identities; thus, we have optimized the process as much as possible in order not to waste the customer's time and to be able to provide excellent and customer-friendly services. All details are discussed using e-mail, chat, video call or in person depending on the customer's convenience. Our project managers are always ready to adapt and eager to visit the customer at the place of business whenever necessary. A proposal for the estimated cost and completion deadlines is then provided.  An advance payment of 50% is expected to continue the creative process.
---
Step 2: Analysis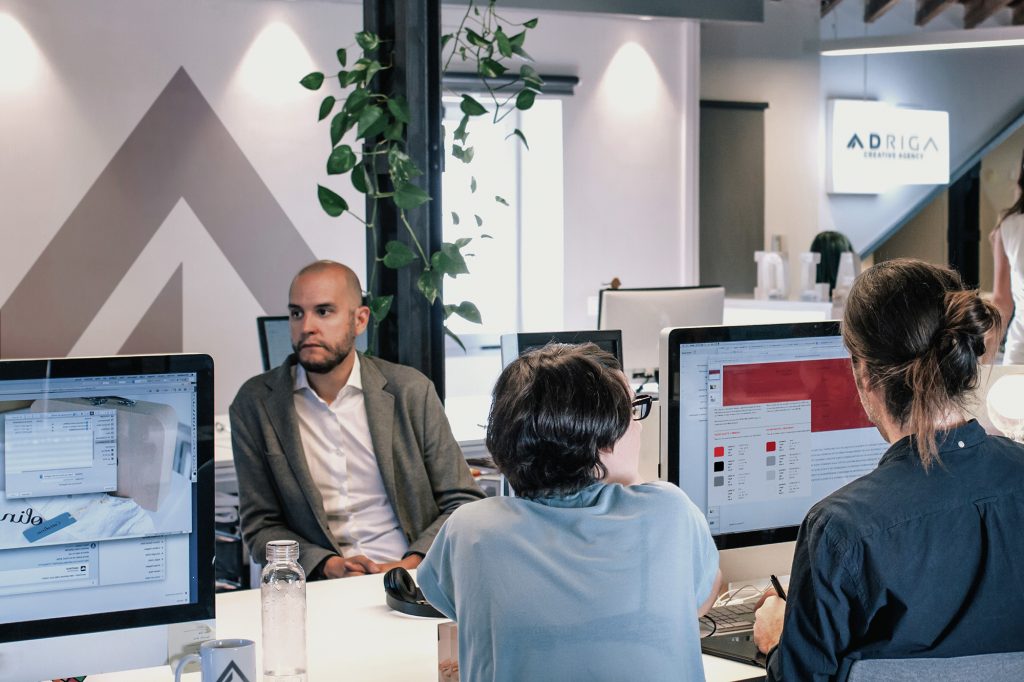 Based on the information received in Step 1, we conduct a thorough analysis of the customer's field of activity, competitors, and style directions thereby seeking a better understanding of the nature and values to be presented by the logo, avoiding any visual similarities with competitors of the specific project. Throughout the process we follow 8 golden rules of logo creation.
---
Step 3: Brainstorming & inspirational materials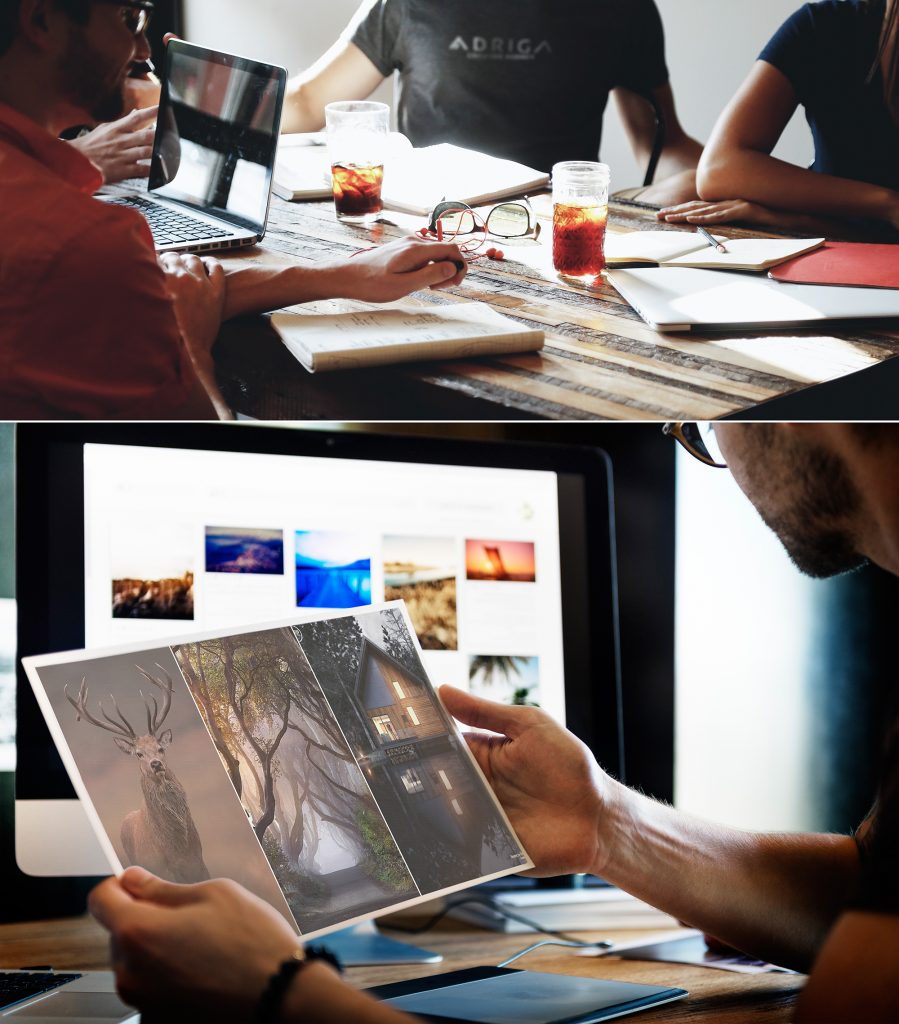 Our team of 20 specialists includes 5 professional logo designers. Although we stand for shared values and follow common AD RIGA design development guidelines, each of us has his or her own individual perspective and ideas. This step includes extensive creative brainstorming either in person or remotely (since we have designers from Spain and USA on our team), creating idea maps and mood boards, discussing visions, and selecting many inspirational materials, which take us to the next step of the idea journey (see below).
---
Step 4: Drawing black-and-white sketches
One of the most labor-intensive and unique steps is sketching where none of our artists are restricted to a set idea. The sketches are made on drawing paper, notebooks, tablets, and sometimes even on napkins, hands, and other body parts when an idea has come to mind suddenly and unexpectedly. Artists constantly contemplate on the project throughout the creation process. The best sketches are developed with a maximum number of variations.  It is important to note that we do not show the results of our work to the customer at this step, for the artists to feel absolutely free to pursue the flight of their thoughts and the implementation of their ideas. The sketches are drawn in black and white because the logo MUST work in a single colour. Otherwise, the logo will not be suitable for engravings, foil stamping, seals, and countless other applications in the company's future. The decision on the colours is made in the next step (see below).
---
Step 5: Defining brand colours and fonts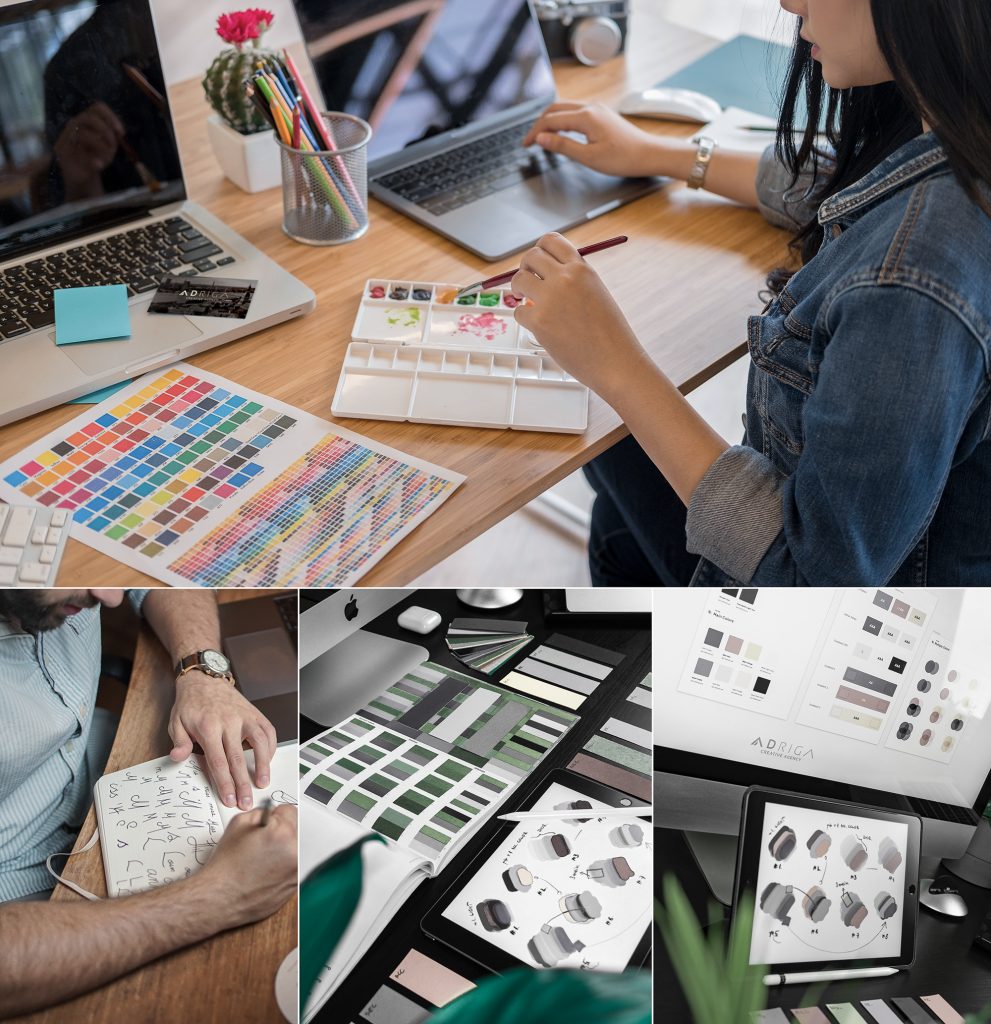 While selecting the best sketches, we start the work on defining brand colours and fonts. The colours must both characterize the company and have a great effect in real life when printed or reproduced electronically. The same applies to fonts as they must harmonize with the used symbols. In addition, in this step we have to identify which fonts will complement the company's style and advertising elements to make sure the logo looks great everywhere. In some concepts, individual typefaces are created, which means that the artist draws each and every letter from  scratch to make sure the connection with the logo symbols is even more unique and fully harmonic.
---
Step 6: Developing concepts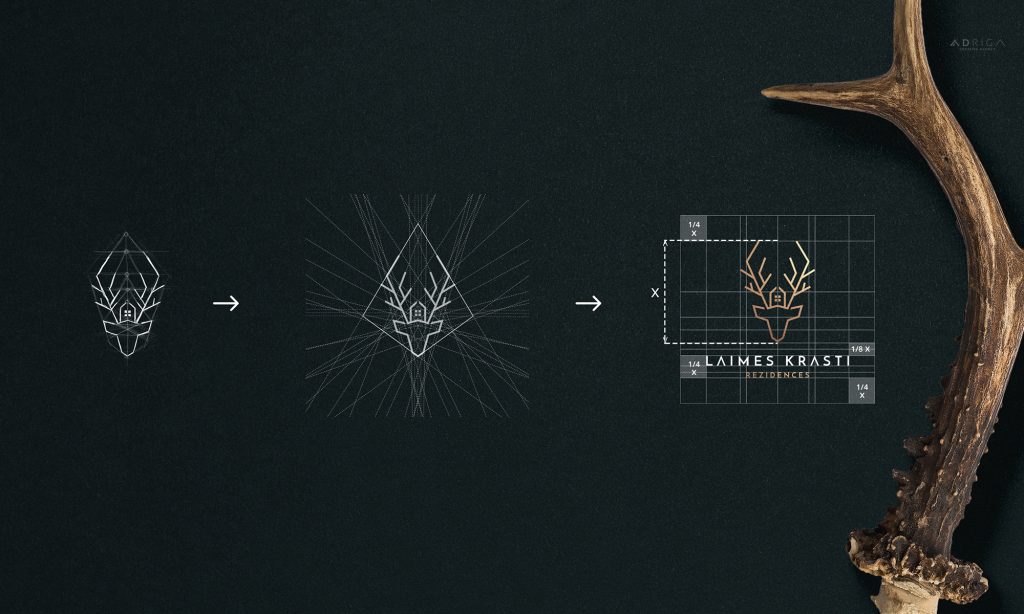 To continue the work, the creative director picks 3 best sketches and gives the green light for further development and creation of computer graphics. Each of these sketches is then "built" again on technical lines, pedantically paying attention to each and every angle, composition, line length, width, and overall proportions. This might seem unnecessary or even too excessive to an outsider, but this accuracy and respect for all nuances makes the final logo professional and visually attractive.
---
Step 7: Preparing sample images
At the end, we develop a full corporate style package (editor's note: the corporate styling is an extra service) and professional sample images with photorealistic visualizations for each of the concepts to effectively help with the final choice. Such visualizations allow the customer to better understand the concept story and see how the logo will work in real life. Below you can see our sample images for the case study "Laimes Krasti".
Concept #1: Our intention was to create a special symbol associated with Residential Village "Laimes Krasti" that would distinguish the village from other residential properties and bring its own unique message. The symbol of a deer has roots in mythology: in the past, deer was believed to be a sacred animal symbolizing clean environment, independence, energy, happiness, and wealth.
Click to download full-size images:

---
Concept #2: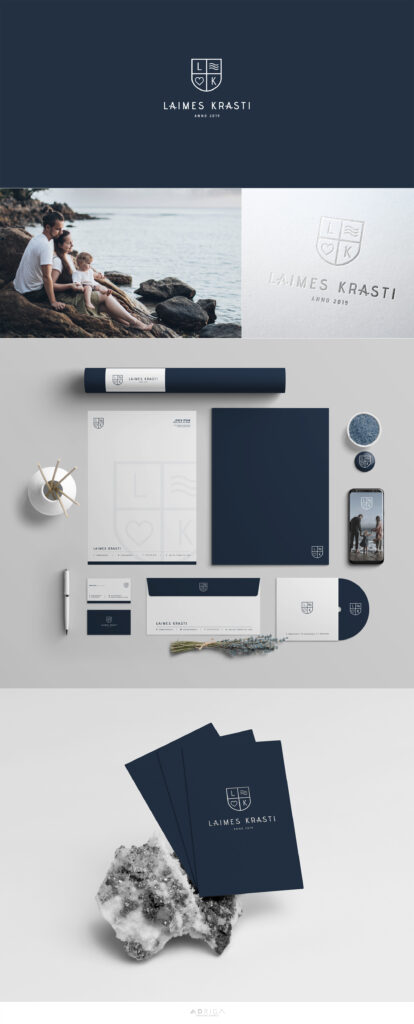 ---
Concept #3:

---
Step 8: Revisions (optional)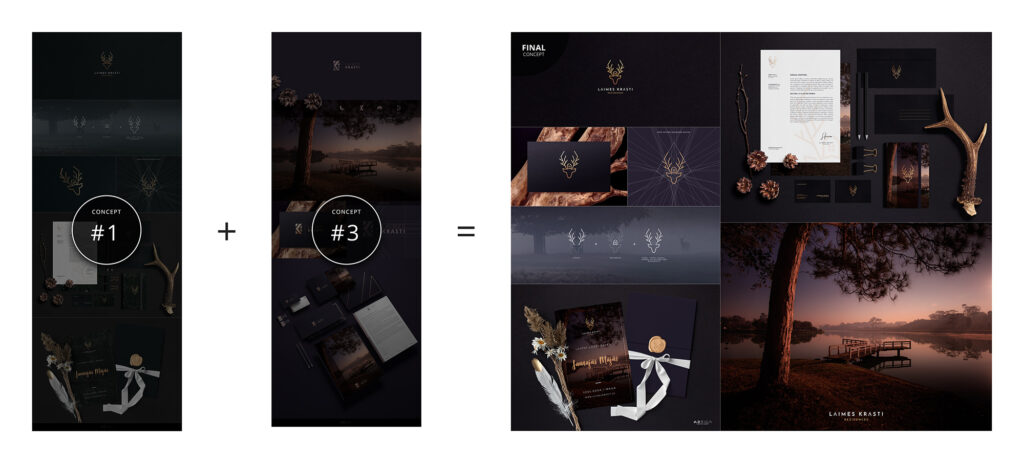 Our work is always detail-oriented: each idea and sketch is examined in every possible version before we get to the final concept; therefore, we do our job being fully confident that all the revisions are already made and will no longer be necessary. We are interested in guaranteeing a 100% satisfaction; so, we respect a customer's requests for any changes. In the case at hand, the customer picked concept #1 asking to combine it with colours from concept #3. No problem! The concept is effective in these colours as well.
---
Step 9: Preparing final files and guidelines
When the customer has decided on the final concept, we ask to make the second payment and, in 5-8 days, we prepare the final files of the selected concept + professional visual identity guidelines (brand colours with accurate RGB, CMYK, PANTONE, and HEX colour codes, primary and secondary versions of the logo, allowed font tones, integration instructions, mandatory free space around the logo, minimum size, use in limited spaces and other standard environments, font characteristics, proportions, and various other details) – a crucially important visual identity brand book for any company with long-term goals. These files will assure the customer that the logo will be really effective regardless of the environment in which it is used.
---
Step 10: Creating other elements
Web design and programming (as of the date of the article, the website of "Laimes Krasti" is under construction):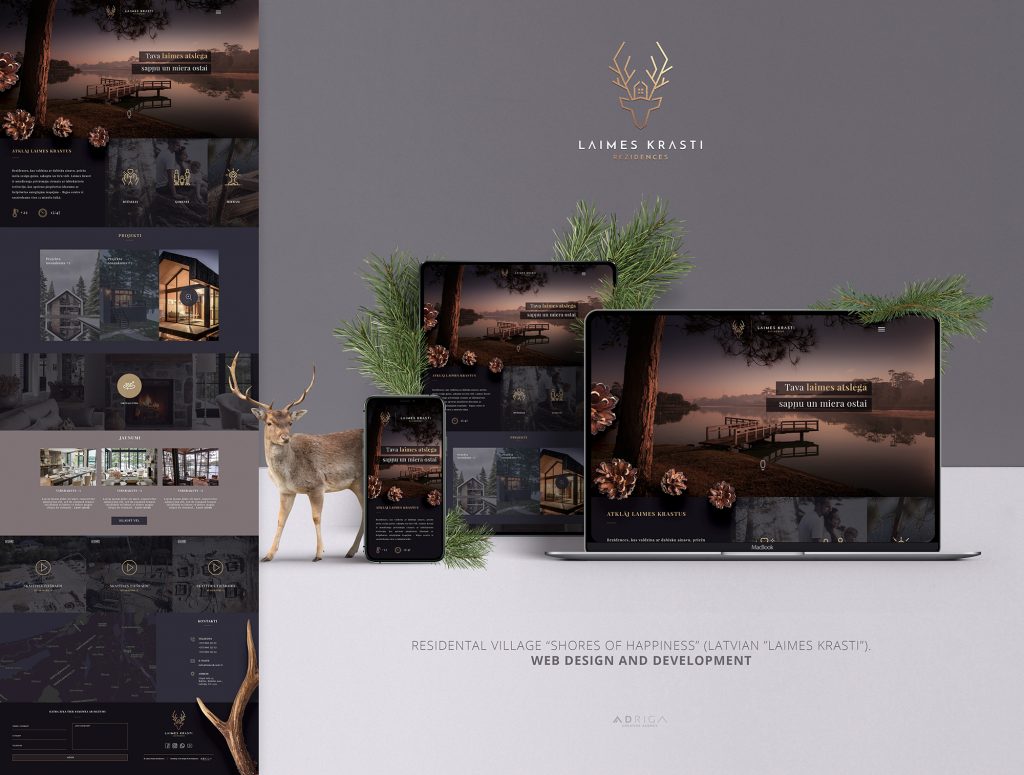 ---
Design of brochures, car stickers and other elements: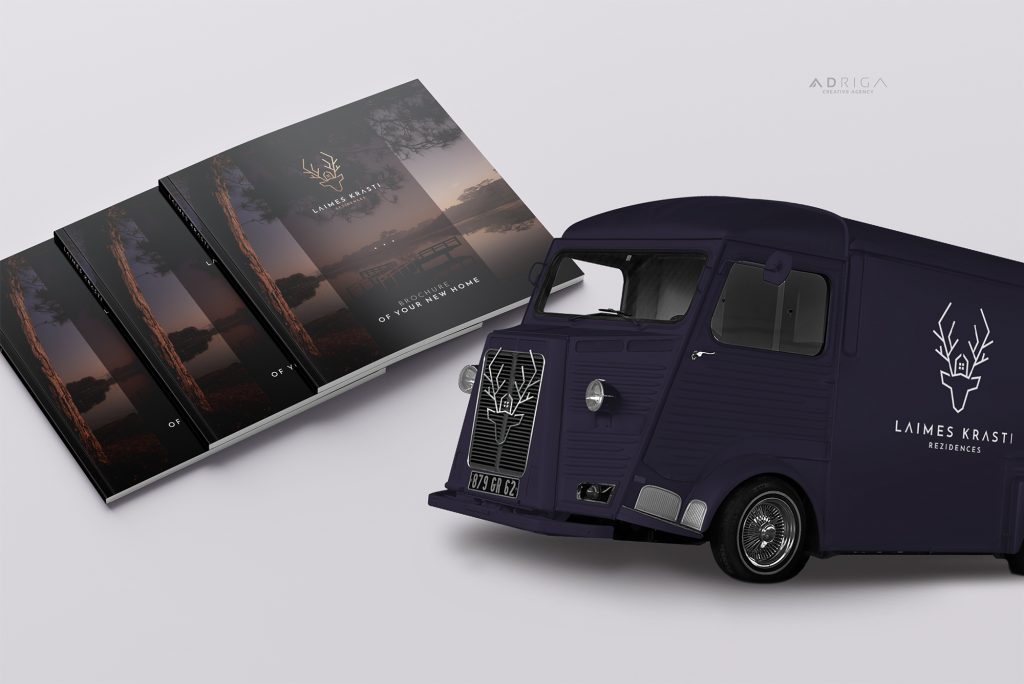 ---
Design of banners, advertising posters and billboards; development of promotional video with professional voice-over and background music: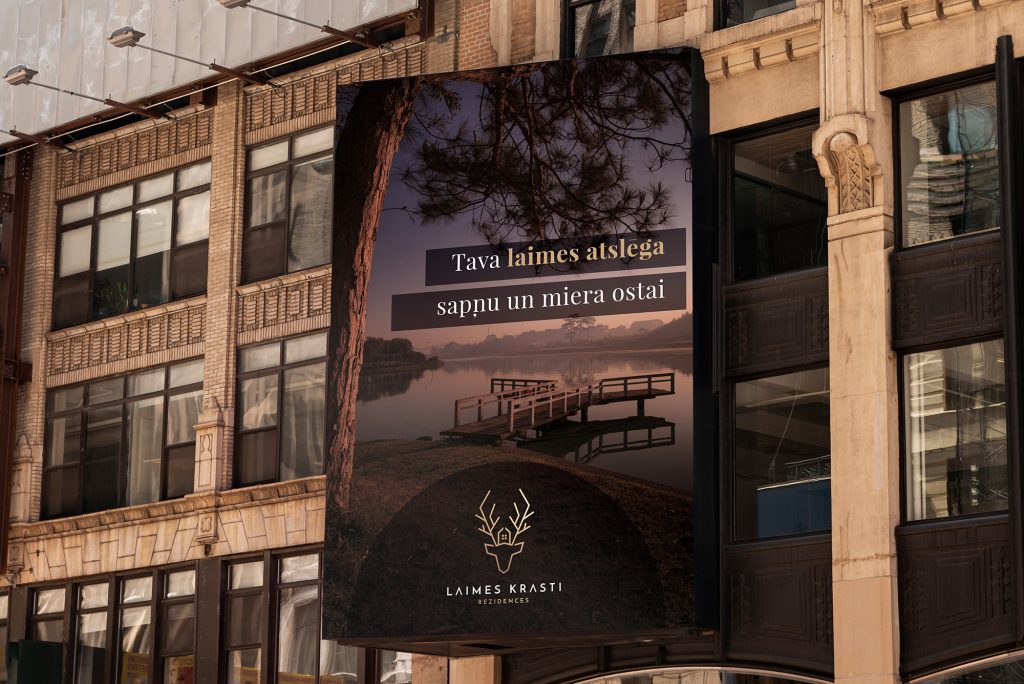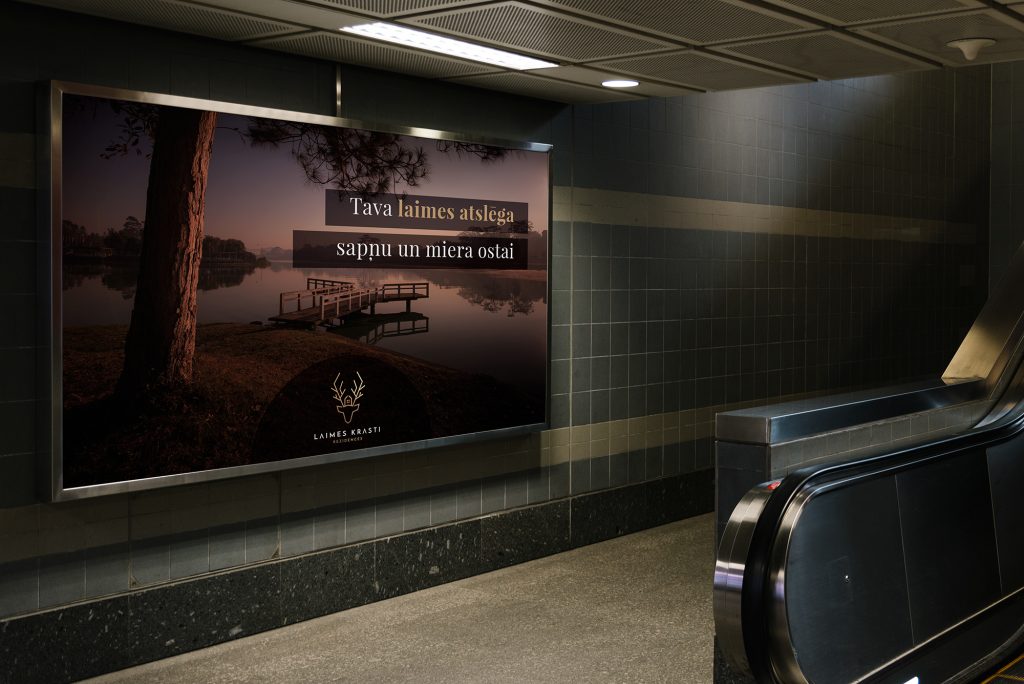 ---
Design of business cards, letterheads, envelopes, folders, and other elements: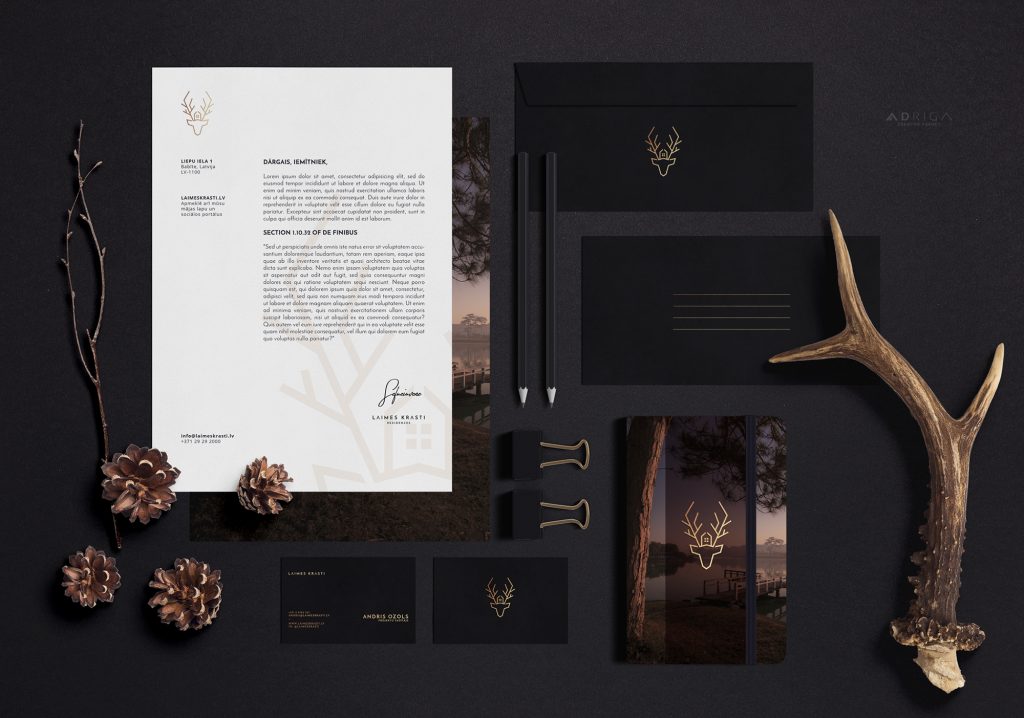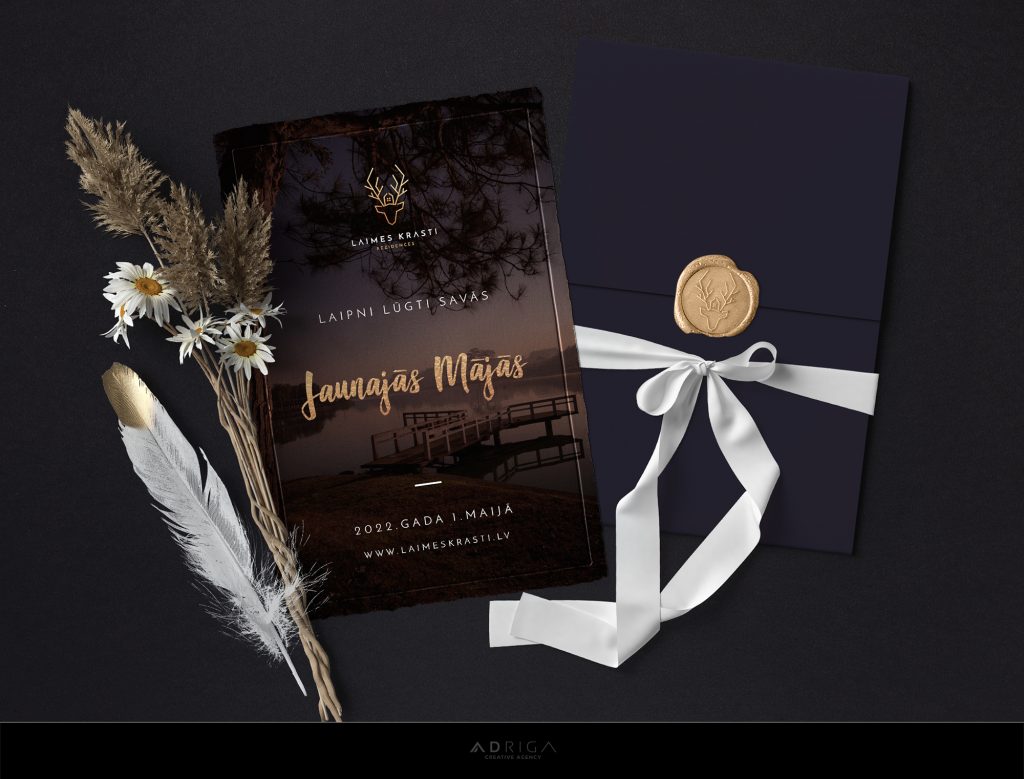 ---
Conclusion
Creation of visual identity is an extensive work, which serves as an important investment in the operation of each company and assures customers of high quality, reliability and professionalism.
The development of a professional logo and visual identity is not a cheap endeavour; therefore, we invite everyone to be careful when examining tempting low-priced offers promising results within a week. Even if you are initially satisfied with the result and have used the logo for a year or more, printing it on countless business cards and other elements, you might find out one day that the logo is a plagiarism. In way too many cases a customer may also unexpectedly realize that the logo contains too many small details or does not work in a monotone version and cannot be used in certain environments for representation/advertisement.
Do you have any questions? We will be happy to answer!